Gazebo Improvements!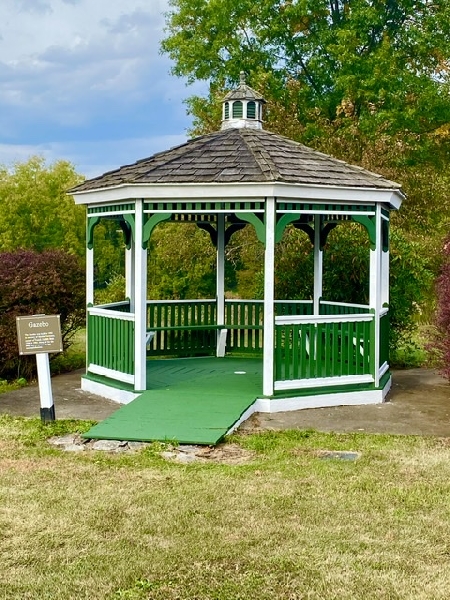 The Gazebo at French Azilum, erected in the 1980s in honor of former resident and site director Martha Hermann, was recently refurbished thanks to Board Member Alison Sims and her husband Kyle.
The bushes surrounding the structure were trimmed back (desperately needed!), and the Gazebo itself received a pretty new coat of paint.
Keeping the grounds and buildinga at Azilum looking good takes many hands. Thank you to Alison and Kyle for being an inspiration!
Fabulous Civil War Day!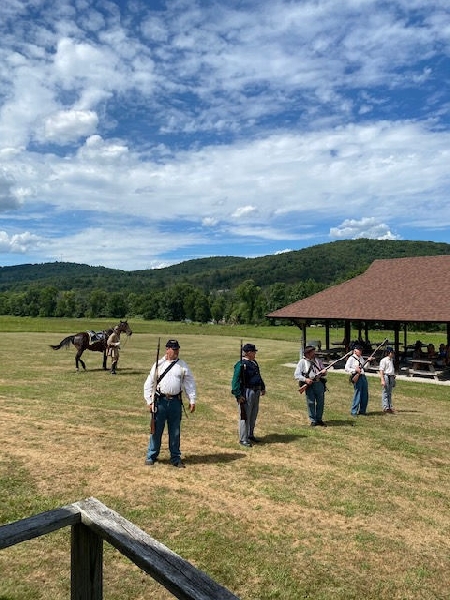 We had a spectacular Civil War Day on Saturday, August 1, with Kurt Lafy and his hardy band of re-enactors. More than 100 people visited the site, enjoyed the skirmishes and cannon fire, marveled as the Blacksmiths worked their forge and petted King Solomon, a gorgeous 17 hand steed who came to represent the cavalry. Visitors enjoyed chatting with the re-enactors, as well as touring the site and the LaPorte House. Many spent the day, enjoying picnics under our pavilion and walking the nature trail down to our newly-refurbished river access.
This annual event is always a popular one, and this year with perfect weather, we were so happy that people came out to have a lovely day at Azilum.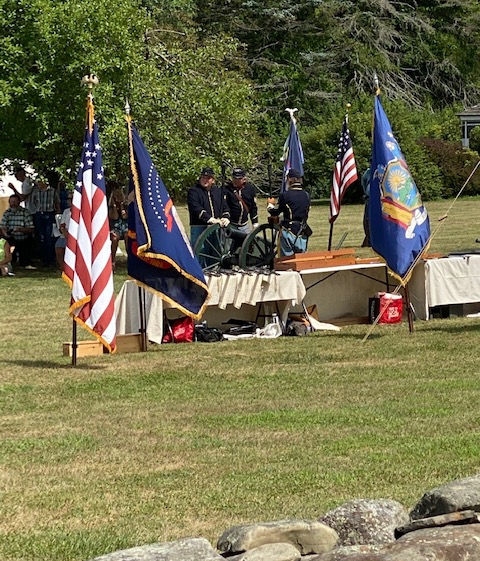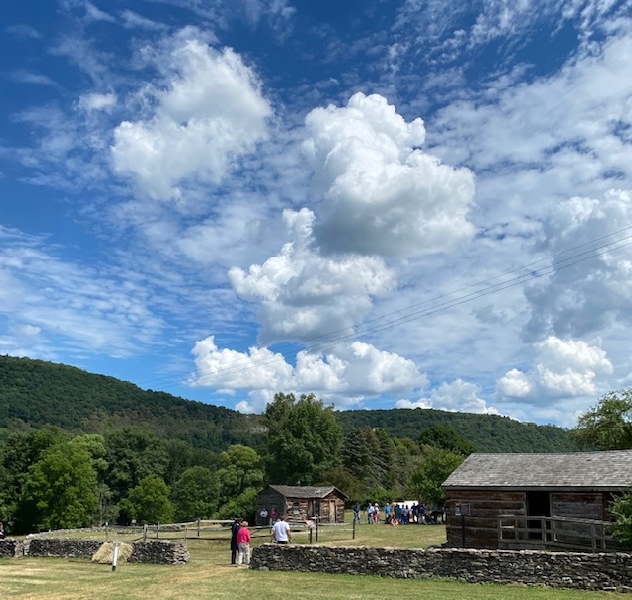 We Danced Like Jane Austen Did!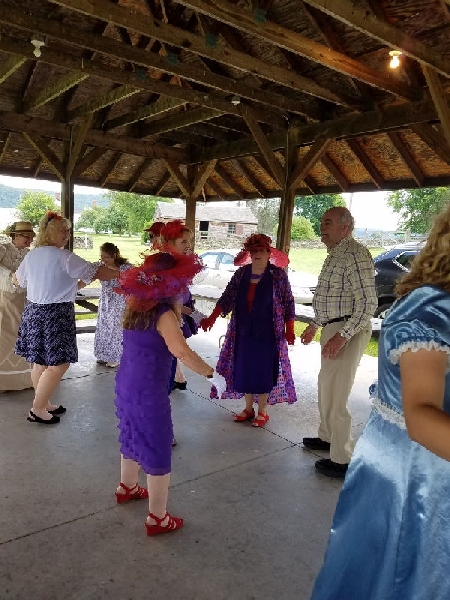 Our Jane Austen Dance Afternoon and Tea was a success, even though we wore masks (optional) and wore gloves, and hand sanitized! We were outdoors under our pavilion — fortunate, since we had intermittent showers! — and once inside the LaPorte House for our Afternoon Tea our tables were socially distanced with limitd numbers per table. Everyone made out fine! Deborah and Savannah served each guest to also limit contact.
We learned three new dances, written specifically for the occasion: 'Azilum,' 'The Duc d'Orléans' Waltz,' and 'Savannah's Jig.'  The Waltz seemed to be everyone's favorite. 
River Access Project Completed!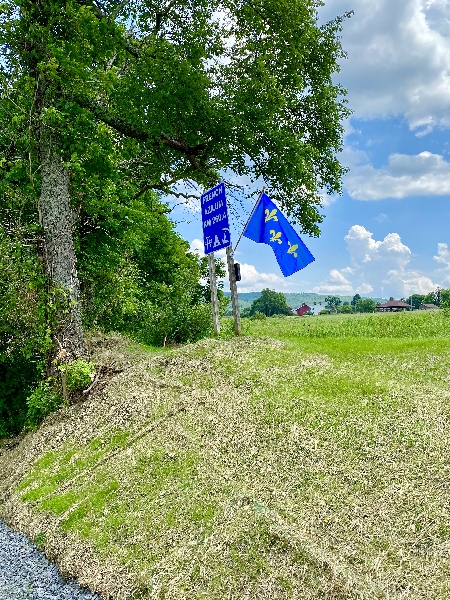 Thanks to many volunteer hours and a grant from the Endless Mountains Heritage Region, the Susquehanna River Access at mile marker 260.4 R at French Azilum has been repaired and upgraded and is ready to welcome river travellers!
Because of flooding and severe storms in the past few years, the river access was in such poor shape it was barely passable. In January, when French Azilum Board Member Deborah Courville and FAI Member Nick Superko surveyed the site, a tree had also fallen across the access path, which itself had been further eroded.
In June, Heller Excavating of Laceyville, under the oversight of Courville and Superko, removed the dead tree, cleared underbrush, re-graded the ramp, installed slope erosion protection, planted grass seed, and surfaced the ramp with stone. The blue and yellow flag of French royalty with its fleur-de-lis design has now also been mounted on the mile marker post, along with a brochure caddy.
The campsites at the top of the ramp have been cleared of brush: two useable tent pads and a fire ring, plus a picnic table and benches invite travelers to stop and enjoy a rest and a meal. A third campsite with another fire ring, bench and picnic table, at a small distance up the hill from the one at the top of the access ramp, will be made useable shortly.
The River Access is now an eye-catching sight along the river, its flag snapping in the breeze, beckoning kayakers, canoeists and all river travellers to pull in and find out what Azilum is all about.
New Barn and Blacksmith Displays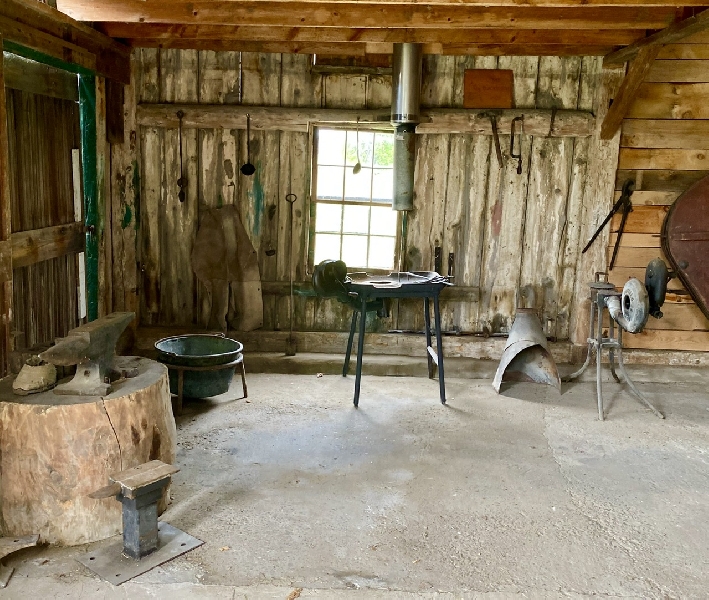 Seven members of French Azilum worked together recently to clean and polish the Museum Cabin, Gatehouse and LaPorte House at the site. We also cleaned out the Barn and re-did displays there, then cleaned out the Blacksmith Shop and created a display there. As you may know, we have been working hard on restoring the Blacksmith Shop. We feel we are now well on our way!
So we will be ready to welcome visitors on Friday, May 22! See you then!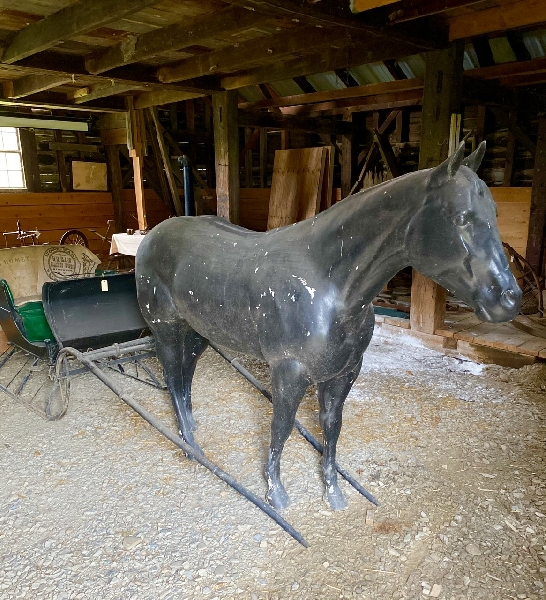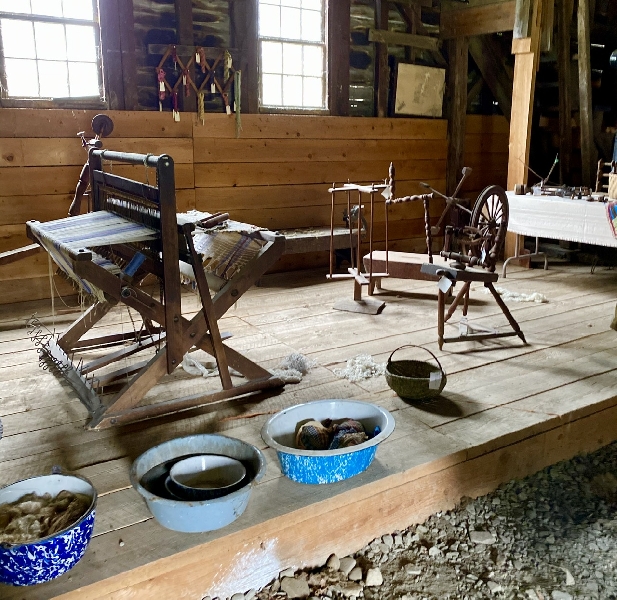 Winter-Spring 2020 Newsletter
Les Actualités
(The Newsletter)
from
The French Azilum Historic Site, Inc.
Toutes les nouvelles qui sont aptes à imprimer,
et toutes les nouvelles qui convient!
Spring is Coming!
Despite the wet snow and chilly winds we are still enduring, spring is definitely on its way. And with it come preparations for the new season at French Azilum. Although the site is dormant for most of the winter, come spring there is much to do: weeding and pruning in the historic gardens and labyrinth, small repairs and cleaning at the Gatehouse, Museum Cabin and LaPorte House, display mounting at the LaPorte House, and more. The Board welcomes volunteers who would like to help out with any of the tasks needed to get our site ready for our 2020 season.2020 CLEANUP DAY IS MAY 16 FROM 11AM-3 PM If you're interested, just call us at 570-265-3376 or email us at thefrenchazilum@gmail.com. Thank you!
New Board Members Welcomed
Two new members of Azilum's Board of Directors were welcomed recently: Donnie Brown and Penni Eldredge-Martin. We hope both will find helping out at the site rewarding and fulfilling, and we appreciate their expertise, enthusiasm, and know how!
How to Reach Us
The French Azilum Historic Site, Inc. has a NEW Facebook page at TheFrenchAzilum. Be sure to 'like' us to stay up to date.
Our website, Thefrenchazilum.com is refreshed weekly during the open season with details about our events, as well as photos, and more information.
The phone number for general inquiries is still 570-265-3376, where you can leave a message and receive a call back.
For Afternoon Tea Events, the number to call to make a booking or inquire about it is 570-996-7534.
Our NEW email is
We look forward to speaking with you!
Please patronize our site and our events! Every entry and event donation helps us keep our marvelous, unique historic site up and running, safe and enjoyable for visitors to explore. If you are interested in making a direct donation to our Capital Campaign, please call us at 570-265-3376 or email us at thefrenchazilum@gmail.com
2020 CLEANUP DAY
Come help us dust, polish, clean, weed, plant and do some minor repairs throughout our site!
On May 16, Saturday, from 11-3 we will be in the Gatehouse, LaPorte House and Museum Cabin, as well as the historic gardens. We need four teams, one for each zone, to clean and merchandise the Gatehouse, clean the LaPorte House, clean the Museum Cabin and displays, and weed/plant in the gardens.
Please contact us at 570-265-3376 or call Deborah directly at 570-996-7534 and leave a message if you are able to help. Bring some friends and do it as a group!
Thank you in advance.
We're on MainlyMuseums!
Check out the article on Azilum on Mainly Museums' website!
Fun at Azilum Despite the Heat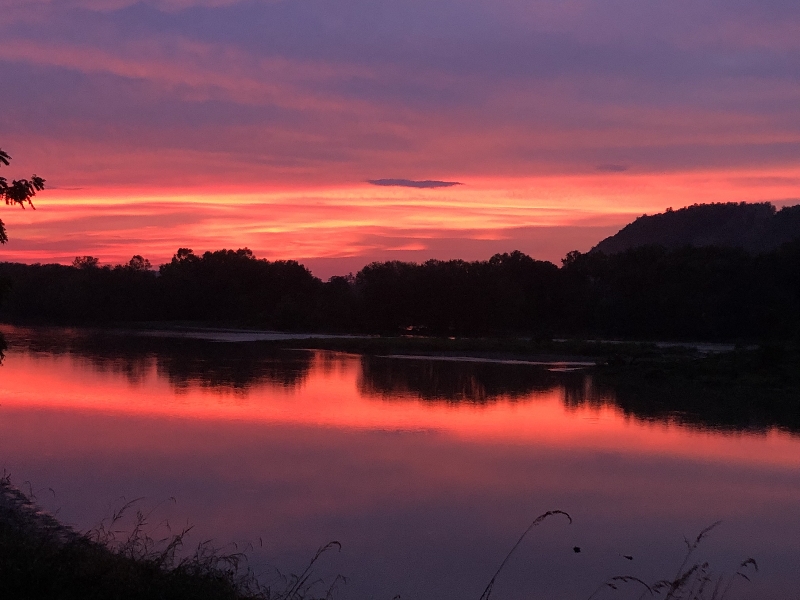 Even though the mercury has been cracking 90 regularly across the broad fields of The French Azilum Historic Site lately, we had some great visitors and wonderful opportunities to share the site with them! Justin and son Xander stopped at Azilum just about at the half way mark of their 100 mile kayaking trip down the Susquehanna. They witnessed a spectacular sunset, caught a glimpse of Elizabeth, one of the bald eagles who nests near the site, and were intrigued by Standing Stone. They very kindly sent us some photos, too! A foursome of friends (originally from the area but now one duo resides in Florida) visited as well, braving the humidity, thunderstorms and high temps. History buffs, they fell in love with Azilum and its story, and we hope they will return, perhaps for one of our events!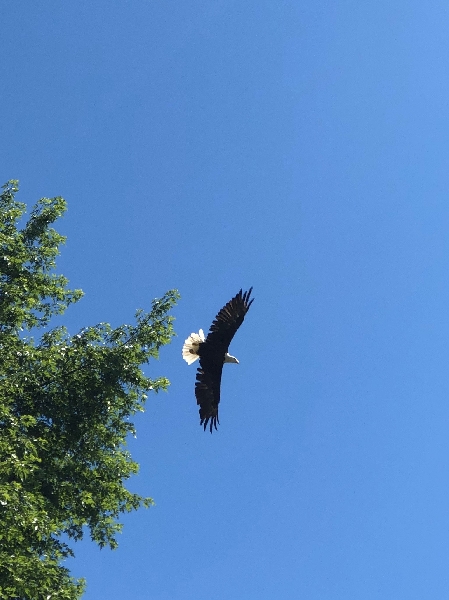 Just a Few Weeks Left!
Just a Few Weeks Left...to experience the unique magic of The French Azilum Historic Site. We close for this year on Labor Day (open the Friday, Saturday and Sunday of Labor Day Weekend).
Come walk the grounds, take a tour of the LaPorte House, enjoy Azilum's unique brand of wilderness beauty, spot the Bald Eagles, or bring a picnic and stay for the afternoon!
Our final Event during the summer will be a Civil War Weekend on August 3 & 4. Following that, on September 22 after the site has closed, the LaPorte House will be hosting another Downton Abbey Afternoon & Tea. Details about both of these Events can be fund under the Events tab on this website.
We're already planning for next year, and we have some great new Events lined up to entertain you, and make your visit to Azilum even more memorable! So check this website frequently, and be among the first to know about our 2020 Events.
Kids' Day Coming UP!
We're excited that our annual Kids' Day at Azilum is only a couple of weeks away! SATURDAY, JULY 6, 11-4 Admission Donation: $5 for adults, $2 if accompanied by a child under 14. ALL KIDS 14 AND UNDER ADMITTED FREE! Come and visit the unique historic site the whole family can enjoy, with special activities and entertainment for the children. Bring a picnic lunch to enjoy on our grounds, or under our picnic pavilion! Old-fashioned games for the kids: croquet, bean bag toss; and an historic scavenger hunt (with a prize for the winner!) Tour the beautiful riverside site of the only refugee colony in the world established specifically for French nobility, learn a little history, and visit the LaPorte House. Surprise entertainment!
Downton Abbey Afternoon Fun Event!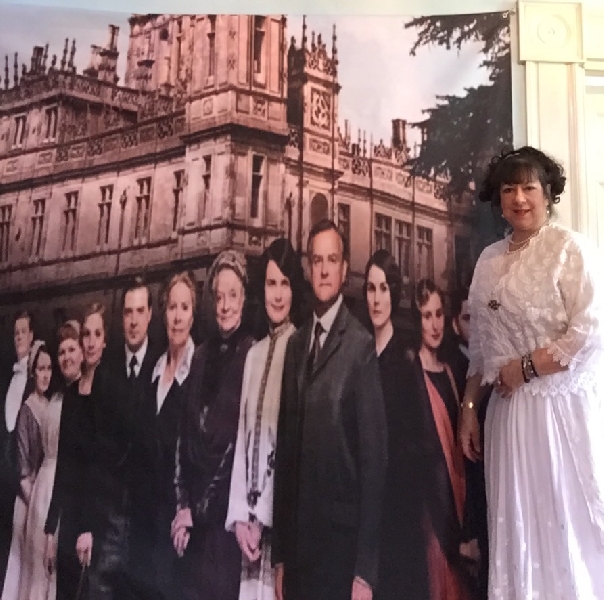 We had a wonderful group of devoted Downton fans--and a couple who have become fans now!--on Sunday for our Downton Abbey Afternoon. Visitors were welcomed to the LaPorte house to the now-iconic strains of the theme music from the beloved television program. Everyone was delighted to view the vignettes from the show set up throughout the house with authentic period clothing reminiscent of the costumes worn on the program. They also enjoyed trying on our replica Edwardian hats, and taking photos in front of the eight foot square banner featuring the cast of Downton in front of Highclere Castle--the filming location.
Following the tour, competition was surprisingly fierce for the Downton Trivia Quiz, with two top scorers--who then received two really great prizes for their efforts.
The Afternoon was capped by a three course Tea featuring savories and sandwiches including shrimp and sweet pea, cherry fig chutney cream cheese, mini prosciutto and gouda quiches, and cucumber hummus rounds; four types of scones (lemon ginger GF, apricot, vanilla chai chocolate chip and strawberry), and desserts including a chocolate strawberry trifle, orange cream pound cake, and Peach Melba tartlets. Four different types of tea were also available throughout.
We will be having another Downton Abbey Afternoon on September 22, focusing on the newly-released film, with updated new vintage clothing displays and vignettes that evoke scenes and important moments from the film.
The Afternoons are significant fund raisers for French Azilum--ALL of the admission donations from visitors goes to the site for maintenance and upkeep. Admission donation for the September Downton Afternoon will be $25 if paid before September 6, $40 after that, and you must pre-book as no one will be admitted on the day of the event who has not booked ahead.
Please note: we can no longer hold seats for anyone who has not paid. We sell out quickly, so mark your calendars and BOOK SOON!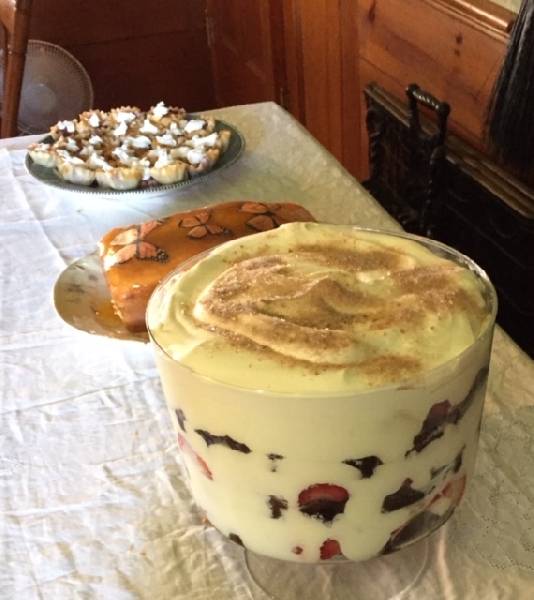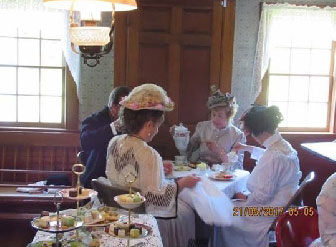 Renaissance Day a Brilliant Time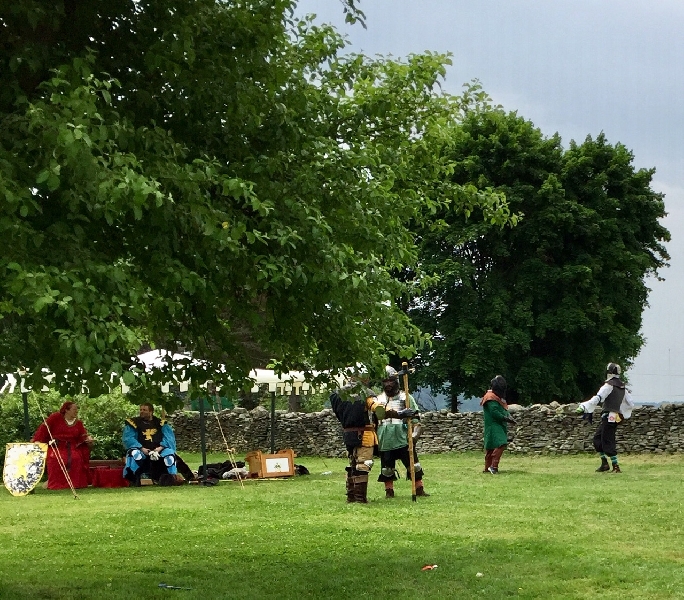 OYEZ! OYEZ! The Renaissance Day at French Azilum was a great success. The SCA delighted and informed our many visitors, who watched some 'melées' and mock skirmishes, archery challenges, and fencing. They also were able to see some of the Mediaeval and Renaissance crafts and weapons up close. We will be hosting this event again next year, so be sure and check back with us. It is unique to this area so you do not want to miss it!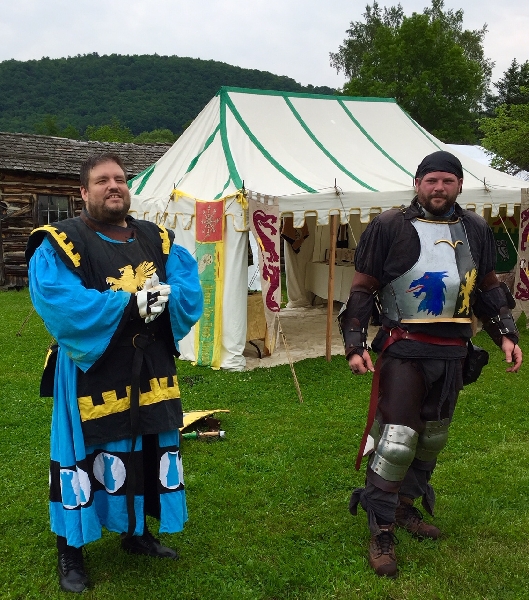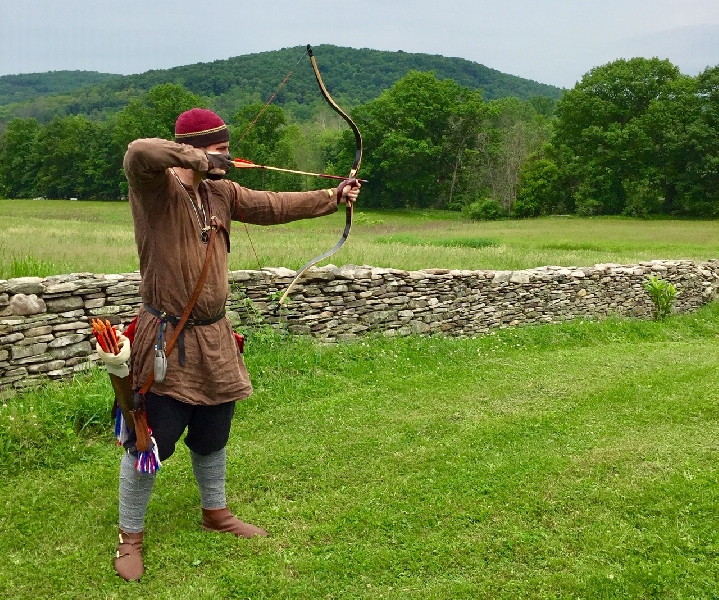 Herb Garden Planted!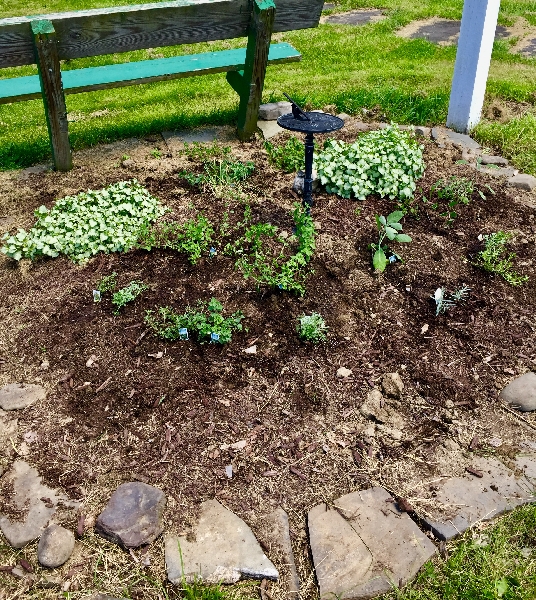 The Herb Garden at Azilum, relocated last year to the rear of the LaPorte House—a more historically accurate spot, and easier to manage—has been planted with this year's selection of herbs.
Come visit us, and smell fresh thyme, sage, marjoram, oregano and other herbs that might have been used both medicinally and in culinary efforts at Azilum, and at John LaPorte's summer home, the gracious LaPorte House.
Take a tour, watch the video, check out the artifacts, and perhaps take a little something home for yourself as a souvenir of your visit: our Gift Shop is now fully stocked for the season, too!
We open this weekend, Friday, Saturday and Sunday, 11-4.
Bienvenue!
Opening Day is Almost Here!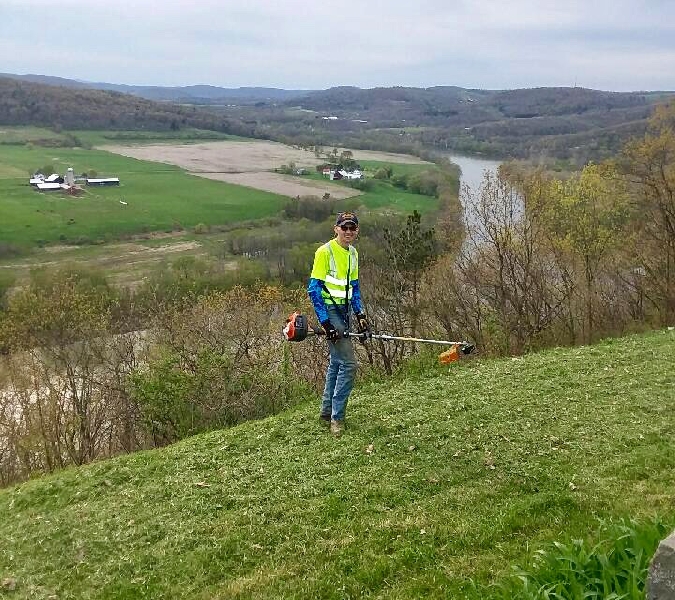 Opening Day is almost here, and we have been working very hard at French Azilum to get the site ready for all our visitors this season. Nick Superko, who is taking care of maintaining the Overlook on Route 6, recently did the initial mowing and brush clearing there...in the photo, look in the distance to see Azilum's site! We hope for drier, sunnier weather, though, as much of the work has been done in the mist and the rain...and the cold! Come visit us this summer, and be sure to check out our Events tab on the Home Page. And check back here frequently to see the latest updates and photos from our activities!