2022 Event List

FRENCH AZILUM Summer 2022
Event Schedule
For more information & event hours, see TheFrenchAzilum.com. Site Open Hours 11-4, Fri., Sat., & Sun.; Tours at noon,1,2&3 sharp! Admission donation: $5 adults, $3 students, under 12 free. 570-265-3376;thefrenchazilum@gmail.com
May 27,28,29- Opening Weekend
Bridgerton Tea! on Sunday, 29 May, 1-4; call 570-996-7534 to book. $30 pp.
June 4 - Family Fun Day-magician, balloon artist and more! Adults $2 if accompanied by child under 12. Children under 12 free.
June 11&12-Blacksmithing Weekend - beginner & intermediate classes offered on Saturday & Sunday.$35 pp
June 17,18,19-Plein Air Weekend- come watch local and regional artists paint our spectacular site and the surrounding scenery. Regular Admission. SPECIAL 'ALL ACCESS' ADMISSION PRICING FOR FESTIVAL EVENTS AND LIST OF ALL FESTIVAL ACTIVITIES AT SusquehannaSolsticeFest.com. Classes, talks, demos, history, dancing...even a river paddle!
June 25-Textile/Quilt Exhibit Day
Local and regional quilters exhibiting their beautiful work in the LaPorte House. Regular Admission.
July 23-French Heritage/Descendants' Day-family members of the original Azilum settlers as well as those who are fascinated by French history will be on hand all day! (Le Gouter or Tea with the Queens 2-3:30, $20 pp additional donation; limited seating 570-996-7534 to book). Regular site admission (does not include Le Gouter). No 3 pm tour this day.
July 24-Church Service (date subject to change)-remembering the settlers at Azilum who were Bradford County's first Catholic residents. Free will donation.
August 6&7- Civil War Weekend with night tour of House/Canon Firing- come see and talk with re-enactors from the Civil War Period, and watch skirmishes, trials and other events throughout both days. Regular Admission.
August 14-Vino & VanGogh -Create your own acrylic masterpiece inspired by Azilum's scenery, under the skilled guidance of award winning artist Shvonne Strickland. Azilum supplies the wine!*$45 THIS YEAR'S THEME: WILDFLOWERS! Must pre-book. Call 570-996-7534 to book.
August 20- Renaissance Day-Knights & Maidens, sword fighting, fencing, and informational displays and demos from days long gone by. Barony of the Endless Mountains (SCA). Regular Admission.
August 27-Closing Weekend-last chance to visit the site before we close for winter!Regular Admission.
*served by PALCB licensed server
FOR DETAILS ABOUT EVENTS IN PRIOR YEARS,
SEE DESCRIPTIONS BELOW!
SECOND ANNUAL VINO AND VAN GOGH!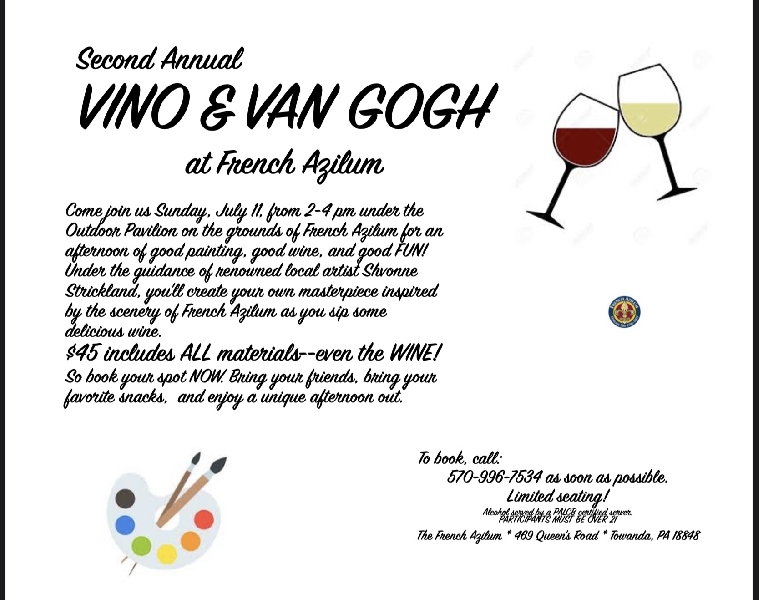 Be sure to book your spot soon to join in the fun!
Spend a lovely afternoon at French Azilum's Pavilion, creating your own watercolor painting inspired by Azilum, and enjoying some lovely wine.
Call soon—spots are limited! For fastest response call 570-996-7534. Thanks!
POSTPONED!!! OPEN HEARTH COOKING EXPERIENCE OCTOBER 30
The Open Hearth Cooking Experience at French Azilum's LaPorte House planned for October 30, 2021, from 10-2 or 3 HAS BEEN POSTPONED TO AUTUMN, 2022. a few demonstrations of Open Hearth Cooking will take place during our 2022 Open Season, especially on Blacksmithing Weekend and possibly one or two other days which will be announced.
Class size for the Fall, 2022 Experience is still limited to six people, and participants are encouraged to wear natural fiber clothing. Period attire not required!
Participants will help to prepare and cook an entire meal with recipes adapted from historical cookery books, over our authetic, period cooking fireplace—and then enjoy eating it together in the gracious dining room of the House. Recipies sourced from Revolutionary War, Colonial, and Georgian cook books!
Come see how food was prepared and appreciated every day before electric stoves, blenders, and microwaves.
; $65 includes all food and accoutrements. To book call
570-996-7534
.
BLACKSMITH CLASSES BIG SUCCESS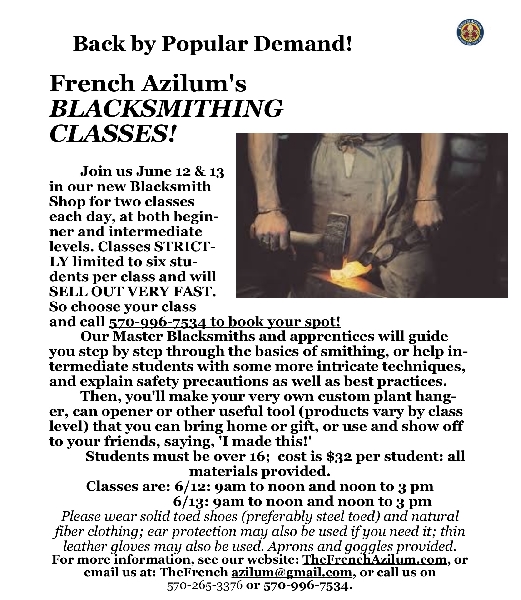 The recent Blacksmithing Weekend was a big sucess, with many thanks to our Blacksmiths Rusty, Steve, Matt, Dave, and Stevie. Beginners and intermediate students were guided to craft a range of items, from plant hooks, to trivets, to door hangers, to dinner bells!
We plan more classes in the future, so stay tuned!
You can also read all about last year's classes, below.
Blacksmithing 101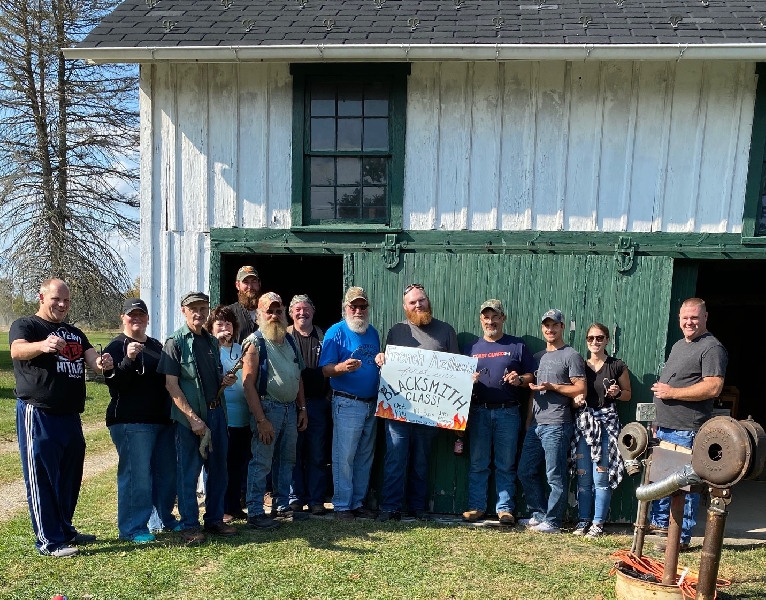 Blacksmithing Class Update
UPDATE!
Both introductory classes are sold out!
We have limited spots available for the intermediate classes, Saturday and Sunday oon to 3 p.m.
French Azilum is delighted to share with you that our first Blacksmithing 101 class in the fall of 2020 sold out so fast, a second was added--and it sold out within days, as well! We are so thrilled that there is such interest in this fascinating discipline, and have scheduled an entire Blacksmithing Weekend for 2021with as many as four classes--one or two on an intermediate level.
Our Blacksmith shop and our roster of Master Smiths and their Apprentices keeps growing, too!
Here is the info as it was originally published about the classes--maybe we'll see YOU next year?
Join us on June 12 & 13 in our newly-refurbished Blacksmith Shop. Our Master Blacksmiths and apprentices will guide you step by step through the basics of smithing, and explain safety precautions as well as best practice techniques. Intermediate classes will tackle more challenging techniques.
You'll make your very own custom plant hanger, can opener or other useful tool or ornament. And you can bring your creation home to use, and show off to your friends!
Very limited space so everyone can have one on one tutorials and lots of 'fire time!' Reserve your spots now. $32 includes all materials. Must be over 12 to attend; under 18 must be accompanied by adult.
For more information, call 570-265-3376 or 570-996-7534 or email us at TheFrenchAzilum@gmail.com
Vino & Van Gogh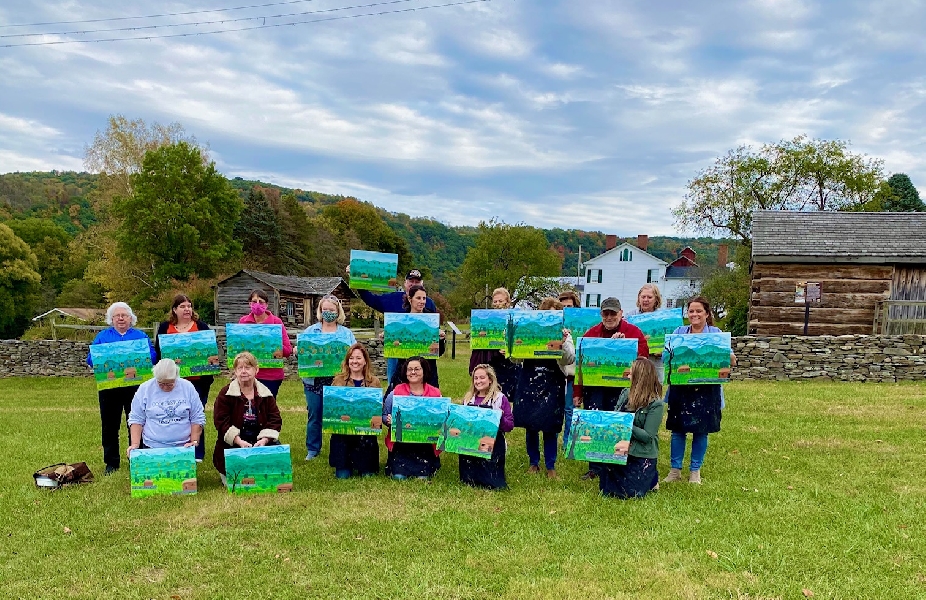 Vino & Van Gogh at French Azilum!
NB: This is about our 2020 Event. We are in the process of scheduling another Vino & Van Gogh Event for this summer, probably July. Stay tuned!
On Sunday, October 4 from 2-4 p.m. local artist and instructor Shvonne Strickland of Strickland Creative Services led about twenty budding artists in an afternoon of good company, good wine, and good art. Vino & VanGogh was held at Azilum's Pavilion, nestled amidst some of the most beautiful scenery in the Endless Mountains.
Shvonne had created a landscape especially for Azilum and for this event: it showed the rolling hills and meadows of our site, along with a couple of the rustic cabins, all done in a style reminiscent of Vincent VanGogh.
As you can see from the photo, everyone created their own versions of Shvonne's masterpiece--which will be hanging in the Gate House come 2021--and enjoyed snacks they'd brought and the wine supplied by Azilum, and had a wonderful time.
More 'Vino and VanGogh' events are scheduled for next summer, so if you're interested, check the 2021 schedule elsewhere on the website, mark the date, and book your spot once we are open for the 2021 season in May.
BEHIND THE SCENES AT A VICTORIAN COUNTRY HOUSE
On Sunday, October 10, from 1-4 pm join us at Azilum's LaPorte House for a splendid themed Tea! This one will see whether you have what it takes to be the Lady of a Victorian Country House. After all, you have to know how things ought to be done if you want to properly direct your staff! Some etiquette pointers, as well as fun challenges will make up the theme of the event, all held in the gracious LaPorte House, which was lived in as a private home from its building in 1836 to 1988. Then you will sit down to a wonderful, home made, three course Afternoon Tea.
Guests limited to 20 so book your spots asap! These events sell out fast. Do not delay!
$30 per person. 100% .of the admission donation goes to French Azilum! Call
570-996-7534
to book.