Blacksmithing 101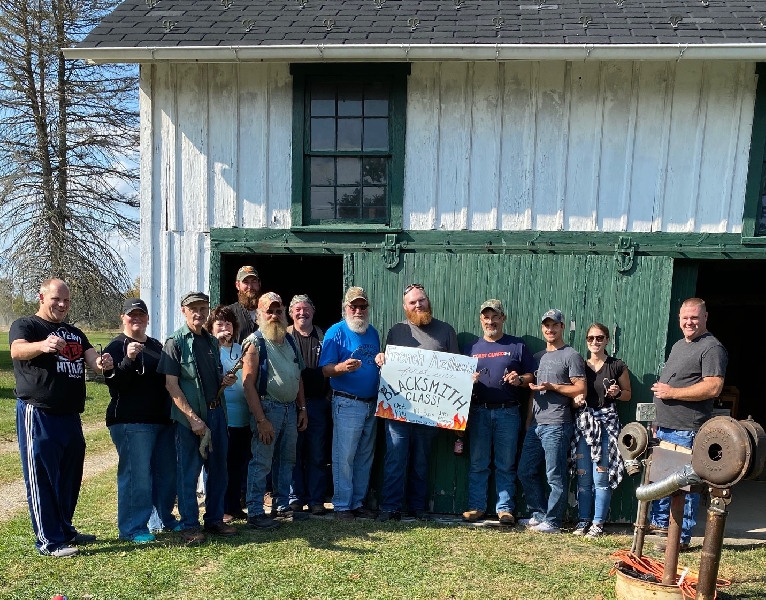 Blacksmithing Class Update
French Azilum is delighted to share with you that our first Blacksmithing 101 class sold out so fast, a second was added--and it sold out within days, as well! We are so thrilled that there is such interest in this fascinating discipline, and have scheduled an entire Blacksmithing Weekend with as many as four classes--one or two on an intermediate level--for summer, 2021.
Our Blacksmith shop and our roster of Master Smiths and their Apprentices keeps growing, too!
Here is the info as it was originally published about the classes--maybe we'll see YOU next year?
Join us on October 10, from 10-3 in our newly-refurbished Blacksmith Shop. Our Master Blacksmith and apprentices will guide you step by step through the basics of smithing, and explain safety precautions as well as best practice techniques.
After a light lunch at the LaPorte House, followed by a brief tour and background of Azilum's history, you'll return to the Blacksmith Shop and make your very own custom plant hanger, can opener or other useful tool. And you can bring your creation home to use, and show off to your friends!
Very limited space so everyone can have one on one tutorials and lots of 'fire time!' Reserve your spots now. $45 includes lunch and all materials. Must be over 12 to attend; under 18 must be accompanied by adult.
For more information, call 570-265-3376 or 570-996-7534 or email us at TheFrenchAzilum@gmail.com
Vino & Van Gogh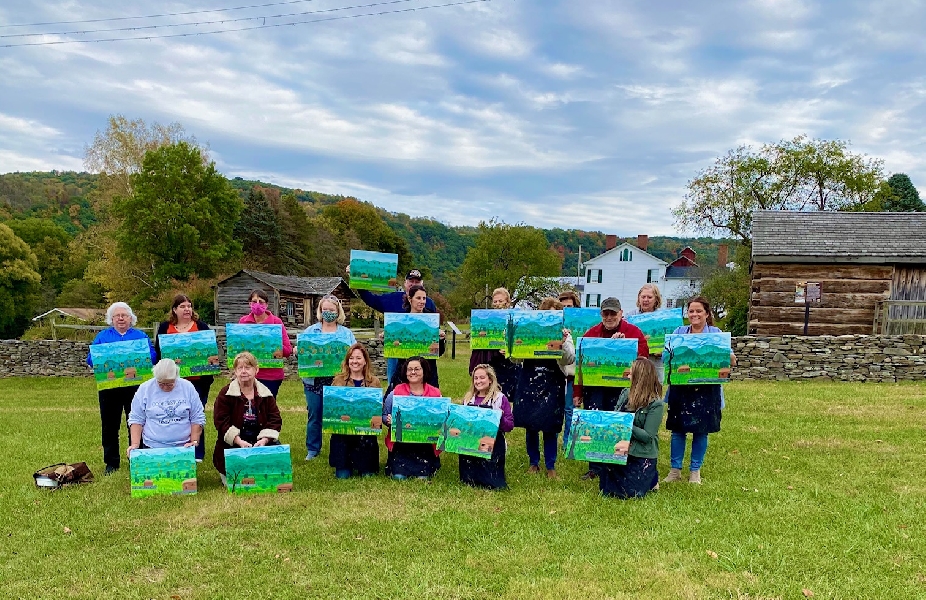 Vino & Van Gogh at French Azilum!
On Sunday, October 4 from 2-4 p.m. local artist and instructor Shvonne Strickland of Strickland Creative Services led about twenty budding artists in an afternoon of good company, good wine, and good art. Vino & VanGogh was held at Azilum's Pavilion, nestled amidst some of the most beautiful scenery in the Endless Mountains.
Shvonne had created a landscape especially for Azilum and for this event: it showed the rolling hills and meadows of our site, along with a couple of the rustic cabins, all done in a style reminiscent of Vincent VanGogh.
As you can see from the photo, everyone created their own versions of Shvonne's masterpiece--which will be hanging in the Gate House come 2021--and enjoyed snacks they'd brought and the wine supplied by Azilum, and had a wonderful time.
More 'Vino and VanGogh' events are scheduled for next summer, so if you're interested, check the 2021 schedule elsewhere on the website, mark the date, and book your spot once we are open for the 2021 season in May.
2021 Event Schedule
Please note that this is a TENTATIVE schedule! Some event dates might be changed, and some events might be added or cancelled for 2021. Please check back here in the Spring of 2021 for updates! For more information and pre-booking, please call 570-265-3376 or 570-996-7534 and leave a message. Thanks!
Planned Events for the 2021
Summer Season at The French Azilum
Open every Friday, Saturday and Sunday, 11-4 in season; last tour at 3 p.m. sharp! $5 adults, $3 students, under 12 free admission donation. Some classes and events incur additional donation requests. www.TheFrenchAzilum.com/570-265-3376
May 28,29,30 - Opening Weekend. Concert Saturday evening Celebrate with Azilum as it re-opens for the 2021 season. Enjoy new exhibits and displays, guided House tours from costumed docents, and the beautiful setting of the 'vanished Versailles' that was French Azilum. Regular admission prices. Concert on Saturday evening in our Pavilion—free will donation.
June 6 - 'Hidden Hazards in the Victorian Home' & Afternoon Tea
A fascinating glimpse into the weird and slightly bizarre practices and furnishings common in the Victorian home, from poisonous dresses to adulterated food! Follow site historian Deborah deBilly dit Courville through the 1836 LaPorte House for a most unusual tour. Then sit down to a home-made, three course Afternoon Tea (guaranteed delish!). $25 donation per person. Limited seating; 1-4; must be pre-booked: 570-996-7534.
June 12,13 - Blacksmithing Weekend
Sign up for one of the classes during this weekend, or just visit the site and watch as our Master Blacksmith and apprentices work 'magic with metal' in our newly renovated Blacksmith Shop. One class each day, Saturday and Sunday, very limited spaces; must be pre-booked. For details, see TheFrenchAzilum.com or call 570-996-7534.
June 26 - Family Fun Day
Our annual Family Fun Day features the amazing 'Allys Air' balloon artist, as well as a fascinating nature experience for all ages with Dan Rhodes from the DCNR, floral arranging mini classes from professional florist Pat Lyman of Lyme Green Floral, an Historic Scavenger Hunter for all ages, House tours, and more. Bring a picnic to enjoy under our Pavilion and spend the day! Adults only $2 donation if accompanied by a child under 12 (one child per adult).
July 11 - Vino & VanGogh (date subject to change) -
Local artist and instructor Shvonne Strickland will guide you step by step to create your very own acrylic painting—one you'll be proud to hang in your own home, or give as a gift! All painting supplies provided. Bring your favorite nibbles and Azilum will provide the wine!* $35 donation per person; pre-booking strongly urged: 570-996-7534.
July 17,18 - Winding River Players/Church Service
The renowned Winding River Players will present 'Marie Antoinette,' a play about the ill-fated Queen, at Azilum's very own Pavilion! Details forthcoming, but two shows are planned: a matinée and an evening performance. Limited seating, lawn chairs encouraged. Tickets $14.
On Sunday afternoon, enjoy the beautiful scenery as members and clergy from a local Catholic parish celebrate a Mass, to which all are invited! Remembering the settlers of Azilum Village, which saw the first Catholic presence in Bradford County, in this special way has become a new Azilum tradition. Won't you join us? Free will donation.
August 7 - Civil War Day
Go back in time and revel in re-enactors' portrayals of famous Generals, soldiers and Civil War women. Watch skirmishes and battles, thrill to the boom of canon fire and wait for the cavalry to 'come over the hill.' Full slate of events all day. More details to come! Regular admission donation requested.
August 21 - Renaissance Day
Knights and maidens take over Azilum this day, with members of the SCA's Barony of the Endless Mountains happy to visit with you and explain their crafts and goods on offer. Battles, jousting, princesses and much more, intriguing for all ages. Come visit and explore a remarkable time in history. Regular admission donation requested.
August 27,28,29 - Closing Weekend
*PALCB licensed server